INTRODUCES
"Baby Blues"
WEIGHT LENGTH
4 lbs 8 oz 20" newborn
"Baby Blues" was born here at Innocence Found Nursery on 6/20/12.
~ ~ ~ ~ ~
He started out as the vinyl sculpt "Lamb Chop" by the very talented sculptor Pat Moulton.
This sculpt is LONG SOLD OUT, and one of the first vinyl kits ever to be released.
Blue has such sad stories to tell you about the reasons for his great big tears!
To start off.... this little man really does not like bath time! He cries and cries, but he still needs to be a clean baby, so off to the tub he goes!
As you can see he has tears streaming down his cheeks. He even has a bit of dampness under his nose!
Thank goodness he has his favorite ducky to keep him company at bath time.
~ ~ ~ ~ ~
Baby Blue's skin tone was created to duplicate the look of a real newborn baby. I used several layers of Genesis heat set paint to achieve this affect.
I have painted splotchy red skin around the eyes to reflect the look of baby's skin after they have had a good cry.
~ ~ ~ ~ ~
Notice the tears welling up in his eyes, and his wet eye lashes.
Special attention was paid to every detail of his skin appearance, from the mottling, to the bluish undertone, veins and capillaries. If you look close you can also see yellowish undertones, frequently seen in preemies and newborns.
Thank goodness, bath time is just about over!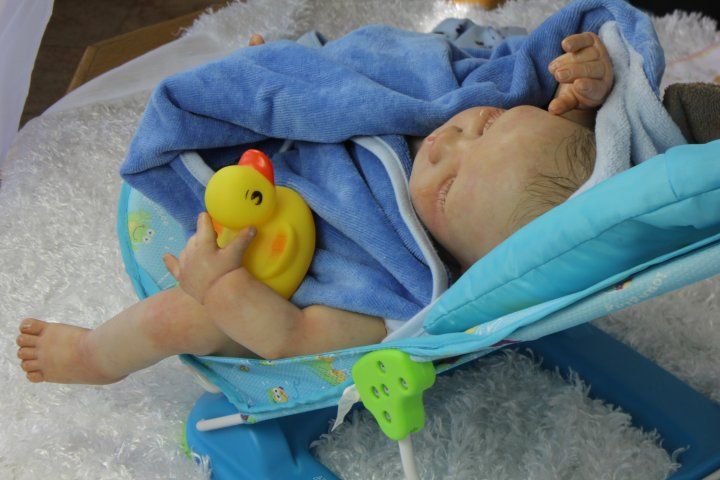 A closer look at baby Blue's hands and feet . . .
His fingernails and toenails have been painted with faint moons on the beds, and realistic nail tips. He has shading in his adorable creases and wrinkles, and a bit of a rashy look to add to the realism of his skin.
There, there sweetie pie... now was that so bad?
He is resting now, while we get him ready to get dressed for bed.
A closer look at Baby Blue's hair.
His hair is hand rooted with top quality dark brown mohair.
I attempted to duplicate the fine and sparse hair of a real newborn. If you look closely, you will see the top of his head is mono rooted (one fine hair at a time) and blended into the thicker area on top and back of the head.
Innovative "always wet look hair" ~ * ~ BRAND NEW TECHNIQUE ! !
I have sealed the hair on the inside, as per norm to help hold the hairs on the head.
BUT, Here is the new and unique part....I have also applied clear gloss to the outside of the head on the hair to duplicate a wet head. His hair stays in place, and always looks "just washed". Since it is sealed on the outside, there is no need for styling or combing, as his hair is "locked" in place. Now we have the best of both worlds.... the look of hand rooted mohair, and the ease of caring for "stationary" hair.
That's better now, all dried off and in fresh diapers and onesie.
Looks like little man is hoping for a bedtime snack!
Pretty please?
All snuggy in his jammies now.
Cuddling with his favorite ducky blankie and bubba.
looks like he is getting dozie....
Now for a few more details..... Baby Blue is weighted with tiny glass beads, and filled with soft poly-fill. He has no sand in him, so will be clear to go overseas.
He has NO magnets in him, so he is safe for mommies who have pacemakers.
Baby Blue will come with his birth certificate and care sheet. If you would like to change his name before he comes home, please let me know and I will be sure it is reflected on his birth certificate.
Please remember that this baby needs an adult to care for him, as he is NOT A TOY for children.
Coming Home/Travel Expenses
Baby Blue will be traveling via Priority Mail, insured and signature confirmation, to be sure that he arrives to his new mommy safe and sound.
He will be carefully wrapped in his blue hooded bath blanket, along with his beloved bath time ducky. He will be coming home in his snuggly jammies and matching hat & footies, and of course his white onesie. Any other items seen in this photo shoot are props and not included.
I have thoroughly enjoyed bringing Baby Blues to life.
I hope you will see what a precious little baby this is and make the decision to adopt and console him. Bless his little heart.
ADOPTED!
Congratulations to his new mommy. . .
Dimitra of Greece
Template Designed by . . . . . Innocence Found Nursery